To give an idea of how small they are - the uDrive is shown here with a standard (for 1984) 2K SRAM chip. Also compare the micro SD cards with a standard SD card.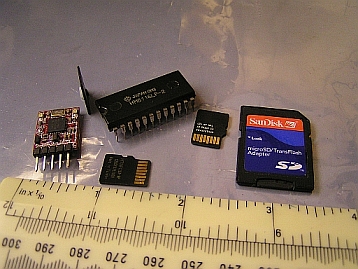 To use the uDrive with CP/M five main utility programs are required.
1...Read uDrive directory and display file names.
2...Write a CP/M file to the uDrive.
3...Read a DOS file from the uDrive.
4...Backup all files on selected CP/M drive to uDrive.
5...Restore all files on uDrive to selected CP/M drive.
I have written five programs to carry out these tasks - in Z80 assembler. So far they have been working well and the uDrive has been very reliable. When using the uDrive data is required to be written and read in 'packets'. These are set to any size from 1 byte to 50 bytes (32hex) when in DOS mode. This is not compatible with CP/M 2.2 which expects data to be in blocks of 128 bytes. I have arranged the software to work by using 4 x 32-byte packets when exchanging data with CP/M.